ROOM RESERVATIONSSPAGYM & POOLSDININGGOLFWEDDINGS & EVENTSGIFT CERTIFICATES

Brookstreet Hotel is Open!
All persons entering or remaining in these premises must wear a mask that securely covers the nose, mouth, and chin while in public indoor spaces as required by the Medical Officer of Health under the authority of the Emergency Management and Civil Protection Act (EMCPA) Ontario Regulation 263/20.

Stay up-to-date with us on social media and through our newsletters.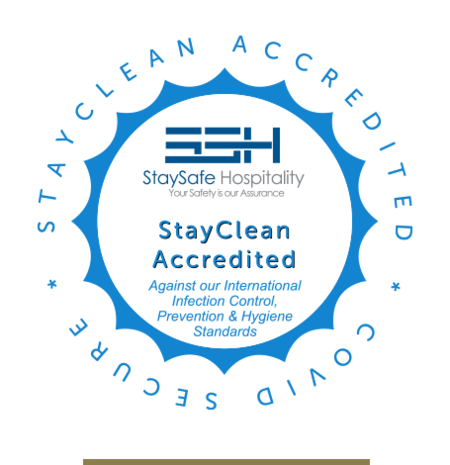 Brookstreet is proud to display our StayClean Accreditation as our commitment and attainment of the high standards of infection prevention and control, to prevent the spread of COVID in the property. We provide a high level of assurance to our guests that enhanced cleanliness and hygiene measures are in place and fulfil many of the new international regulatory requirements.
ROOM RESERVATIONS
We have implemented new procedures to ensure a safe and comfortable stay.  Payment with credit card is required in an effort to promote the health and safety of our team.  MORE DETAILS

GYM & POOLS
Flex Fitness Studio's gym and indoor pool are closed.  MORE DETAILS

SPA
Au Naturel Spa is closed.  MORE DETAILS

DINING
Perspectives Restaurant and Options Jazz Lounge are closed for dinner!  Take-out and delivery is also available.  MORE DETAILS

THE MARSHES GOLF CLUB
Now Open

WEDDINGS & EVENTS
Looking to book an event? We're up-to-date on all the government rules and regulations and can guide you along the way!  

GIFT CERTIFICATES
Please contact [email protected] with any questions about gift cards or certificates.

CONTACT US
We do anticipate a high volume of emails and appreciate your patience at this time; all inquiries will be responded to within 24 hours  [email protected]street.com or 613-271-1800
STAY UP TO DATE
EMAIL
The best way to stay up to date is to sign-up for our newsletter.
SIGN UP NOW
SOCIAL
Follow our social channels where we will also be posting updates.
What Our Guests Say
We have stayed at the Brookstreet once before (shortly after it opened). We live just 2 hours from Ottawa so almost never stay over. This time we wanted just an overnight in luxurious surroundings at a reasonable price and the Brookstreet did not disappoint.
We decided on a golf staycation to celebrate our 50th wedding anniversary. We've tried numerous ways to celebrate but with COVID-19 things didn't work out as planned. This was better than we had imagined. The hotel room was more than adequate & golf course is in great shape. We hope to make this golf staycation an annual trip. Thank you!
We are from Ottawa and just wanted to get away. I felt hesitant to stay at a hotel given COVID but with all good practices visibly in place by Brookstreet I felt at ease. We absolutely loved our stay and look forward to our next visit. Thank you so very much!
The COVID policy at this time was extremely well detailed. The friendliness & attentiveness of the staff at check-in, check out and throughout the dining and golf experiences was outstanding.
It is a perfect getaway right in town where the staff will make you feel special and pampered. The service was exceptional!
Never Miss Another Sale
Sign up for our eNewsletters today to be the first to know about latest specials, promotions, contests and updates.